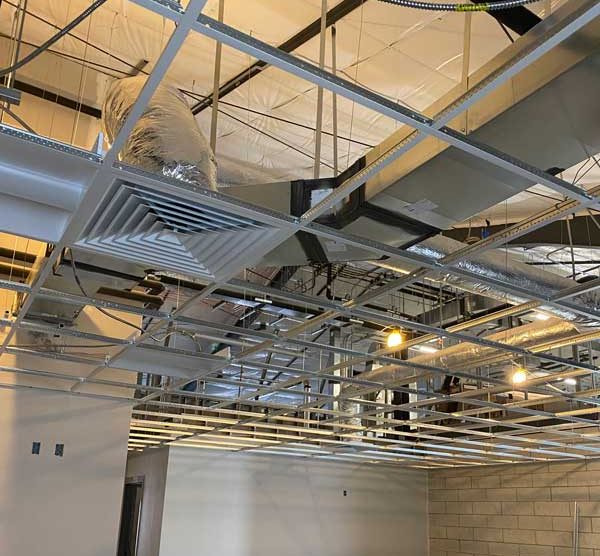 Acoustical Ceiling Installation in Cincinnati, OH
Looking for an acoustical ceiling company that can bring your commercial facilities the sound-dampening ceiling solutions you need? McCool Plaster & Drywall is an authority on acoustical ceiling installation, having installed countless ceilings for businesses throughout Cincinnati, Cleves, North Bend, Mack, and Addyston, OH and the surrounding areas. We give you a finished ceiling that's effective at controlling noise, without the cost or displacement that can come with full remodeling.
The Benefits of Acoustical Ceilings
There's a reason acoustical ceiling installations are the standard in office buildings and other professional facilities. They offer a professional aesthetic, superior sound control qualities and the flexibility your facilities need to remain finished but accessible. Here's a look at why our customers choose acoustical ceiling tiles:
Enhances the quality of sound
Absorbs ambient, unwanted noise
An affordable option (as opposed to remodeling)
Easy removal and replacement to access utilities
Aesthetic, professional appeal
Whether you're renovating office space or installing a solution to barren, echoing ceilings, acoustical tiles are the best option. And our acoustical ceiling company is the best choice to install them.
The Installation Process
The beauty of working with a seasoned acoustical ceiling company is that your installation is quick, efficient and looks spectacular when it's done. We work in businesses big and small throughout Cincinnati, OH to plan acoustical ceilings. This includes bracket installation, planning for utility access, acoustical tile cutting and shaping, and the complete installation of the ceiling. We're happy to consult with you about any specific needs your project has and can accommodate them within the acoustical ceiling installation process.